Before you can begin using Assignment Based Grading, you'll want to make sure you have your assignments, deadlines, and posting requirements set up. Follow along with this Help article to learn how to:
Step-by-Step Instructions for Setting Up Assignment Based Grading
After setting up your community, your discussion feed will be empty. Click Manage Assignments to begin the discussion setup wizard.
Here is where you will set up your discussion assignments! To start, enter in the number of assignments you'd like there to be throughout the course of the term.
If you would like to add recurring deadlines for assignments, click the checkbox right below. However, if you would prefer not to give deadlines to your discussion assignments, leave the checkbox unchecked and move on to Step 5
After clicking the checkbox to add recurring deadlines for assignments, fill out the fields below:

Frequency: how often you would like these deadlines to occur (weekly, bi-weekly)
Due By: the day of the week you would like all assignments submitted by
Time: the time you would like all assignments submitted by
Time Zone

From here, you will set up your students' posting requirements (the required posts and curiosity scores needed to earn full credit for an assignment):

Points/Percent: Determine how you would like grades to be calculated and click the box next to your preference
How many posts are required?: Set a specific number of questions and responses students should post for each assignment
Minimum Curiosity Score (Optional): This is the minimum score that each post should meet for students to receive full credit

If you would like students to receive half credit for posts that fall below the minimum Curiosity Score, click the checkbox just below. Otherwise, students will receive zero points for any that do not meet the minimum.

Points/Percentage Worth: If you set your grades to be calculated by points, enter the number of points you'd like each post type to be worth. If you set your grades to be calculated by percentage, enter the percentage you would like each post to be worth, making sure the total amounts to 100%.

Once you have finished setting up your assignments, click Save and Continue.
You will be taken to your Discussion Assignment Management page, which will show you a breakdown of your Assignment Based Grading discussion assignments. If you have set deadlines, you will see the start and end dates for each assignment here as well.
Assignment Based Grading is now set up in your Packback course!
Managing Assignment Based Grading
With Assignment Based Grading, we have given you full flexibility to customize your assignments! Below are actions you are able to take that will allow you to optimize your Packback experience:
Extend or completely remove an assignment's grading period
Customize the posting requirements for each individual assignment
Skip or delete an assignment
Instructions for managing Assignment Based Grading
On your Discussion Assignment Management page (mentioned in step 7 above), find the corresponding assignment you would like to edit or delete and click the icon under Options. Select whichever action you would like to take.
Edit an assignment: You will be given the option to edit the following components of each individual assignment. Make sure to click Save Assignment for the changes to take effect:

Assignment Name: We give each assignment a default name when you set up Assignment Based Grading. However you have the option to change the assignment name!
Start and End Dates: Edit the dates associated with the assignment. You can have it start and end however earlier or later you would like!

NOTE: Changing the assignment dates will not automatically adjust the dates on other assignments even if you initially set up recurring deadlines.

Posting Requirements: You have the ability to customize the posting requirements you originally set!
Discussion Guide Posts: Here is where you can set instructions for the assignment you are editing. Provide your students with a prompt to follow,a topic for the week, or a note of encouragement. The choice is yours!

PLEASE NOTE: The Guide Post cannot be replied to by students. It is meant for giving information that will guide them through that week's assignment.

Delete an assignment: Select Delete under the Options column. Doing so will only remove that assignment from your course. The start and end dates on other assignments will not change for deleting one!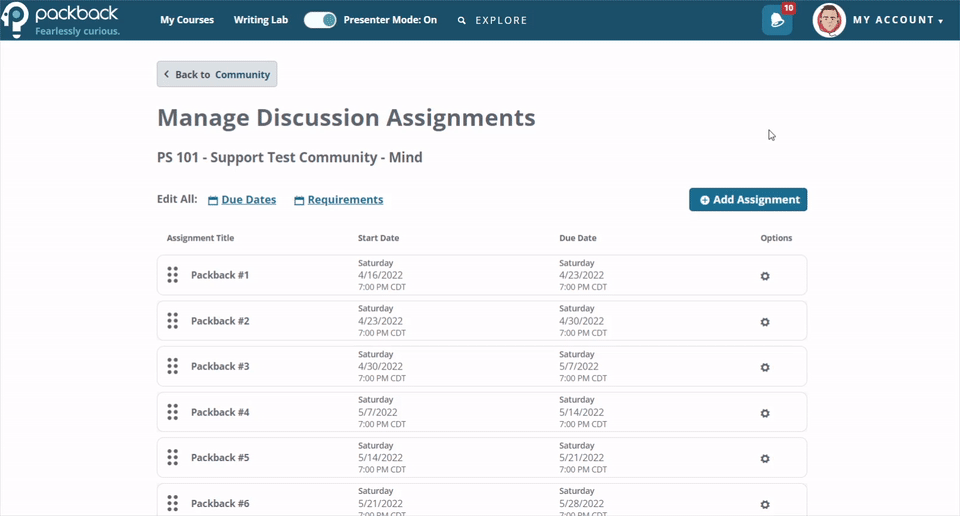 Have questions?
If you need technical assistance or have questions about Assignment Based Grading functionality, please reach out to our Support Team at help@packback.co.