Your grade is determined by a few factors, including deadlines and posting requirements set up in your community. Your Participation Report will be your best friend and easiest reference when checking your grades for each individual Packback assignment!
Take a look below at the instructional video we've created as a visual guide for you, or else follow along with our written step by step instructions.
Weekly Deadline
Your Packback Participation Report is determined first by a set weekly deadline. We call these Grading Periods! In order to earn points towards a specific Grading Period, you must post in your community before its deadline.
Posting Requirements and Curiosity Score Minimum
Your instructor will also set a posting requirement. This indicates the number of questions and the number of responses you should be posting within each grading period. Some instructors have even set a minimum Curiosity Score that your post must reach in order to earn points for the week.
How do I find my professors posting requirements?
If your professor has chosen their own posting requirements, you can locate them at the top of the Community Feed by clicking the "Show Deadline Details" button or within your Participation Report.
On the left-hand side of the main Discussion Feed of your community, you should see an option to select "View My Grades" beneath your avatar and name. This will lead you to your Participation Report! Click on "Show Deadline Details" to see the requirements.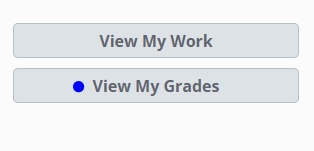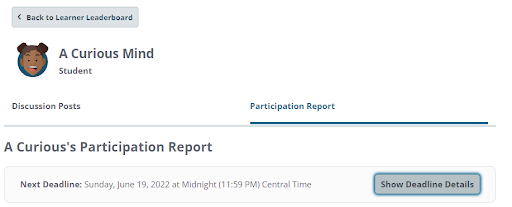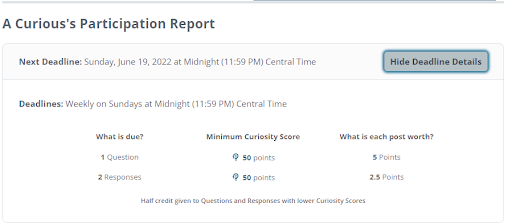 How do I check my assignment grades?
Scroll down beneath the Deadline Details area and you will see your scores for your current and past assignments. This will include the number of questions and responses you've published within each individual Grading Period.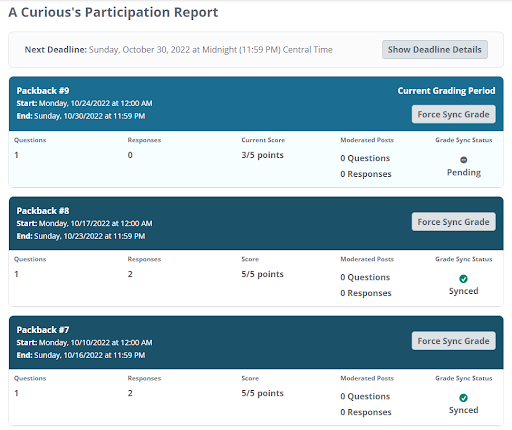 If your community uses the Gradebook Sync feature, you will also find each grade's sync status. Learn more about that here: How do I connect my Packback grade to my course's gradebook in Blackboard, Canvas, D2L-Brightspace, Moodle, etc.? – Packback
Where to See Moderated Posts
When in a moderated state, posts will not count towards your participation or score. If one of your posts has been moderated, you can view, edit and republish the work from within your Discussion Posts!

Having trouble?
If you could use more help navigating your Packback grade, please reach out to our Packback Support team at help@packback.co.