Packback is compatible for integration with most Learning Management System (LMS) platforms, including Blackboard, Canvas, D2L, and Moodle. This article lays out how to go about setting up your Learning Management System with Packback and our Gradebook Sync feature.
This article will cover the entire setup flow across the following steps:
Adding the Packback Tool/Link To Your Learning Management System

Connecting Your Learning Management System Course to Packback

Turning on Gradebook Sync
Follow along with instructions below to learn how you can go about enabling the Packback integration in Blackboard.
Step-by-Step Instructions for How to Add Packback to Blackboard
Go to the course in Blackboard and click on Content and make sure that Edit mode is on


Click on Build Content and then click Web Link


Fill out the Web Link Information form that will appear on the screen:
Enter the name of the tool: Packback
Enter https://lms-api.packback.co/lti/launch in the URL.
Check the box for This link is to a Tool Provider
Click Submit
Connecting Your Learning Management System Course to Packback
From here, you'll now be able to connect your LMS to a Packback community. You'll first need to click on the Packback link that has been added to your Learning Management System.
From there, you'll be shown a list of Packback communities associated with your account. Click Connect next to the one you'd like to connect your Learning Management System course to. To complete the Learning Management System setup process, simply verify that the connection information is correct and Confirm Connection.

Still need to create a Packback community to connect to?
If you haven't created a Packback community quite yet, you're able to do so right from your Learning Management System!
Click on the Packback link that's been added to your Learning Management System, first. This will initiate the Learning Management System Setup Wizard. On this page, click Create a New Community and fill out the community details. Make sure to double check the information and finally select Save and Continue at the bottom of the page.
Congratulations, you've successfully created a new community and connected it to your Learning Management System!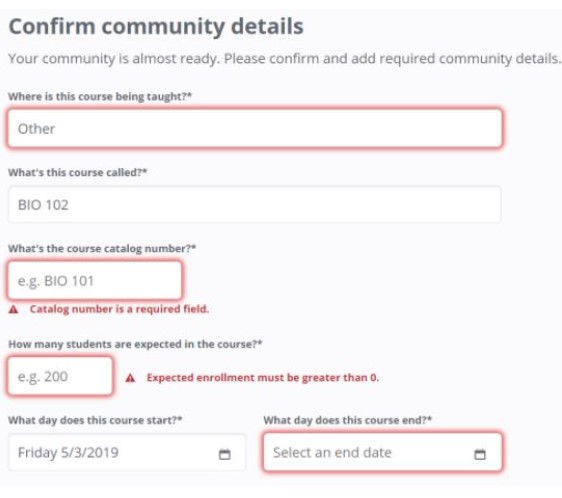 Already created a Packback community but don't see it?
If you've already created a Packback community but don't see it when you click the Packback link in your Learning Management System, it's possible you created the community under a different email address than is logged into your Learning Management System.
In this case, please reach out to our Support team for assistance. You can contact us via email at help@packback.co. We'll be happy to help!
Turning On Gradebook Sync
If you are hoping to have Packback sync to the gradebook built within Blackboard Ultra for LTI 1.3, here are the step-by-step instructions for how to accomplish that!
Click on "Gradebook Sync" in Packback underneath Professor Tools

Confirm your deadlines and posting requirements

Turn on Gradebook Sync
Gradebook Sync is now active! With this version of the connection, no other steps need to be taken.
How does Packback create a grade in my LMS gradebook?
Auto Gradebook Sync
Packback does the work for you! When a deadline passes, our system pushes the grades from your Packback community gradebook into a new column we import to your LMS gradebook. It's as simple as that!
Manual Gradebook Sync
Whenever you're ready to sync gradebooks, go to your Packback community gradebook by clicking View Gradebook button on the left-hand side panel.
At the top of your gradebook you'll see a Sync Grades button. Click that to initiate the sync. This will create a column for that grading period in your LMS gradebook and will keep everything up-to-date.
Will a student's grade still sync if they don't access Packback through the LMS?
Students should only access their community through their LMS. If they are doing so externally (directly through the Packback site), the LMS will be unable to recognize the work they've done.
As long as they are doing that, their grades should be reflected in your LMS gradebook the same way they do in the Packback gradebook when a sync is initiated.
Having trouble?
If you are running into issues with the above instructions or just have a question, please reach out to our Support Team at help@packback.co.