One of the great things that sets Packback apart from other online discussion platforms is our Curiosity Scoring System, which calculates a grade for you based on a set criteria. Some instructors have even set up a grade book for you so that you can see how many points you've earned in your class for a given week.
Below is a layout of how your grade in your community is calculated!
How is my Participation Report Calculated?
Your Packback Participation Report is calculated by two major components: your weekly deadline and your posting requirements. Both of these are set by your instructor but here's a great layout of what that means for you.
Weekly Deadline
Your Packback Participation Report is determined first by a set weekly deadline. We call these Grading Periods! In order to earn points towards a specific Grading Period, you must post in your community before its deadline.
Posting Requirements and Curiosity Score Minimum
Your instructor will also set a posting requirement. This indicates the number of questions and the number of responses you should be posting within each grading period. Some instructors have even set a minimum Curiosity Score that your post must reach in order to earn points for the week.
Note: If your instructor does set a curiosity score minimum, when assigning a score for your Packback assignment, Packback will review the highest scoring posts. For example, if your instructor requires you to ask 1 question with a curiosity score minimum of 50 for 5 points of the total grade (this is a hypothetical, your instructor may have different requirements), and you submit two questions in the same deadline - one with a curiosity score of 15 and the other with 60 - Packback could only review the question with a curiosity score of 60. Thus, you would receive 5/5 for the question portion of the Packback assignment. You wouldn't get more credit for posting more than 1 question, but you wouldn't get less credit because one of your questions was below the minimum.
How do I find my professors posting requirements?
If your professor has chosen their own posting requirements for your community, you can locate those requirements in your "Participation Report".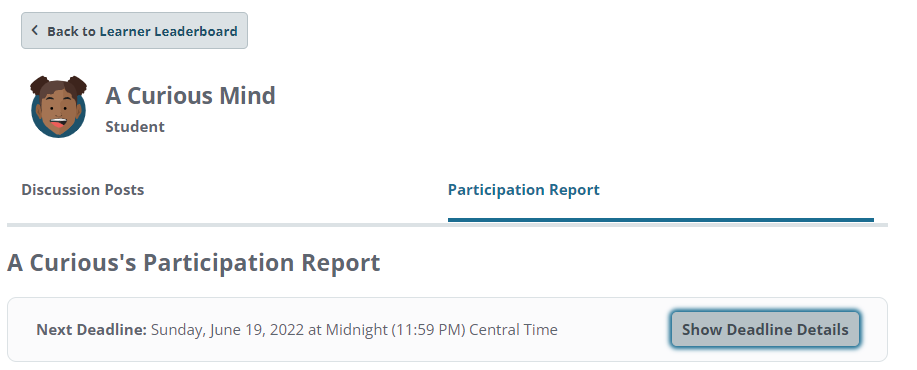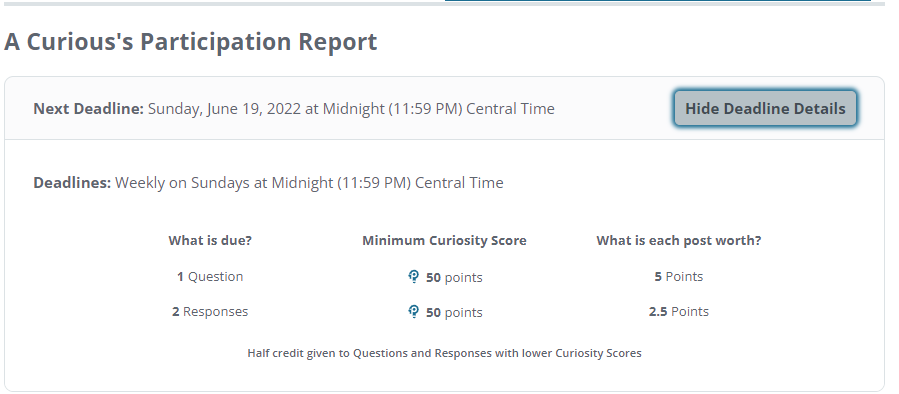 How Are Curiosity Scores Calculated?
The Curiosity Score measures quality of your questions and answers on Packback. Every post earns a point score out of 100 based on its Depth (how thoughtful you were in forming your response), Credibility (citing high-quality sources), and Presentation (using our Text Editor to properly format, and inserting images/video).
You can get higher scores by posting questions and responses that are more aligned with our guidelines. If you'd like an example, the "Featured" tab has a collection of high-quality questions and responses.
Presentation
This takes into consideration formatting, legibility, images, videos, and other supplemental resources that enhance the post to make it more interesting. The more of this a post has, the more opportunity there is for people in your community to explore their curiosity!
Credibility
Does your post provide evidence that supports your ideas and arguments? Are the sources you're using to provide support reliable and relevant? Including this kind of evidence provides a strong structure for you to build your post upon!
Depth
A writer who demonstrates effort asks a question or responds to another classmate's question in ways that are unique and engaging rather than simply straightforward! The more open-ended your question or the more in-depth and exploratory your response, the more effort is shown, and the more Curiosity Points you earn on the post.
The accumulative curiosity points will be used to determine a student's ranking on the Learner Leaderboard!
Is Late Work Accepted?
You can post in your community at any time! Just keep in mind that your post will be counted towards the Grading Period it falls under. We are unable to change the timestamps on posts to match a desired Grading Period.
The more attention to these three criteria your post demonstrates, the more Curiosity Points your post will earn! Check out our Packback Blog post for more insight of our Curiosity Scoring System.
Can You Change the Timestamp on My Post?
Because we hold our platform and its users to high learning standards, we do not, under any circumstances, change the timestamps on posts. Doing so would compromise the integrity of our grading system and the platform itself. If you are trying to make up points for a missed Grading Period, we recommend you reach out to your instructor or TA to see if they'd be willing to work with you!