It was a "Closed-Ended" Question
Posts that violate Packback's Community Guidelines are flagged by our moderation algorithm and submitted for manual review by community moderators. One of the reasons a question response may be moderated is if it was a closed-ended question
Why was your post moderated?
Your post was moderated because we felt it demonstrated the characteristics of a closed-ended question and has the potential to be revised into one that is open-ended and therefore more engaging! Closed-ended questions aren't just questions that can be answered with a "yes" or "no"! We consider a closed-ended question to be one that has a straightforward response which means there is a correct answer to it, it can be found on Google or in a textbook, or it can be copied and pasted from another source.
Why is asking open-ended questions important?
Open-ended questions encourage you to put together meaningful answers that stem from your own knowledge, experiences, ideas, thoughts and feelings. There's also not a "wrong" or "right" answer, which gives you the opportunity to explore the subject in unique, creative ways. We believe discussions sparked by open-ended questions are not only richer and more dynamic but also highlight your individuality, creating a space where you feel safe to engage deeply in your learning experiences.
Helpful Tips to make your post more open-ended:
Ask a question that has many possible answers
Ask a question that does not have a single "right" answer
Ask a question that calls on your classmates to draw connections between the material and real-world situations
Avoid starting questions with phrases like "What is the definition of…", "What is the difference between…"
Here's what we mean!
When writing open-ended questions, Packback follows a cognitive framework known as Bloom's Taxonomy to ensure higher levels of thinking. Learn more about it here!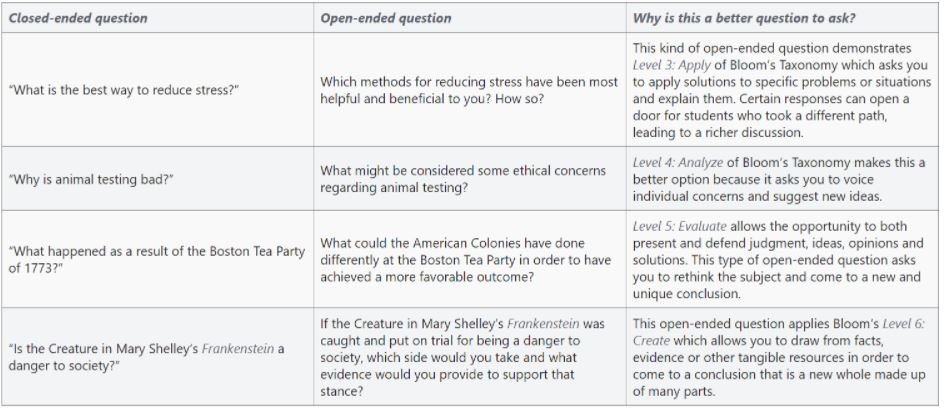 How to edit and republish a post
In order to earn back the points for your post, we recommend exploring which of your own thoughts you can bring to your question/and or response. If you'd like more tips for how to do that, feel free to check out our article that lays out a few helpful tips for editing and republishing moderated posts: How do I Edit & Republish my Post?
What happens after I edit and republish a post?
Once you've edited your post with the recommended feedback and have republished it, your post will be published with its original posting date and counted towards that grading period. Republished posts are still checked by our AI and moderators, so please be sure that your post meets the Community Guidelines when republishing so it is not flagged or moderated again.
Have questions about your moderated post?
If you'd like to know more about your moderated post or would like more assistance editing it to earn back your points, free to reach out to our support team at help@packback.co.