This article will detail the steps to turn on and set up gradebook sync for Packback Deep Dives.
Before following these steps, make sure your LMS course is connected to your Packback community. You can find those steps specific to your LMS here.
Step-by-Step Instructions for setting up Gradebook Sync for Deep Dives
1. Find Gradebook Sync on the left side panel of your community.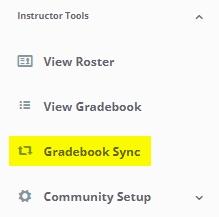 2. Under Packback Deep Dives, select ON next to Gradebook Sync and click Save Changes
3a. If you have already created your Deep Dives assignments, click Create Grading Columns. We will then import empty columns to your LMS gradebook for each Deep Dives assignment you have created. The grades will later sync to those columns.

3b. Alternatively, the grading column creation can be done while you are creating your Deep Dives assignment. At the end of the assignment creation process, you will see an option to add the assignment to your LMS for Gradebook Sync. If you select that option, a column will be added to your LMS gradebook once your assignment is published. The grades will later sync to that column.
At this point, you also have the option to change how the assignment will be titled in your LMS. Otherwise, it will have the same name as the Deep Dives assignment in Packback.

Have questions?
If you need technical assistance or have questions about the functionality of your Deep Dives with Gradebook Sync, please reach out to our Support Team at help@packback.co.