Here at Packback we want our students to feel like a part of a community. This is why Packback offers an open discussion board where students can ask the BIG questions and discuss them with their peers. This sense of autonomy and ownership of the knowledge they are gaining builds a great sense of community for students.
Allow students to introduce themselves!
First week of classes online can be intimidating for some students as this may be the first time for many. In order to break the ice and hopefully help students feel more a part of the Packback community, we suggest pinning a post in the first week of classes allowing students to introduce themselves! (see example below). You can also find instructions on how to go about pinning a students post in this article: How to Pin a Post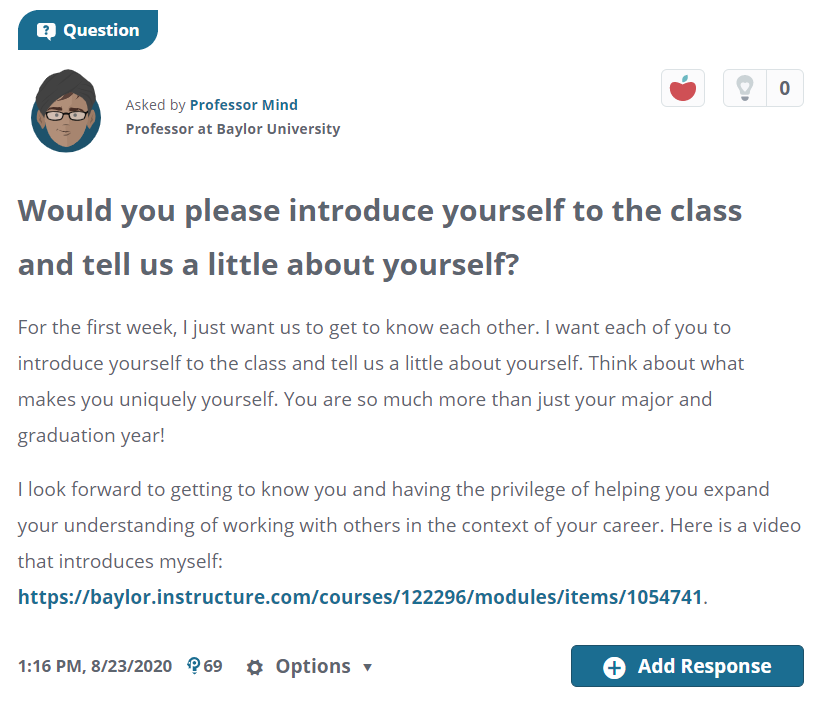 Break up your students into section groups!
Being in a course with over 60+ other students can make it hard for some students to feel like they can really connect with their peers therefore, we recommend breaking up your students into section groups. This will not only help you as a professor to help you better interact with students on the feed but it will also create a more intimate community for students. We suggest connecting with your experience manager here at Packback to better help you strategize this for your particular course!
Packback is their community!
When introducing Packback, explain to students this is their community to discuss their curiosity and interest in the subject. It is their community to build discussion, discuss confusion, and explore their natural interests in the subject.