Packback's Discussion Polls give instructors and TA's the ability to post questions that prompt a student to pick one of the poll choices, in addition to defending their choice in a written response. By using discussion polls, instructors can easily and quickly take the "pulse" of their class, to see how they feel about an issue or topic and to check for understanding.
How do I create a discussion poll?
Step 1. To post a poll, go to the "Discussion Polls" tab under the Packback instruct menu and click "Post a New Poll" in the top right hand corner. Please note: Only instructors and TA's in the class can post a poll but anyone can answer.
Step 2. Create your poll question and add between 2-8 poll options.
Step 3. Choose whether or not you want you discussion poll to be an In-Class poll or a Homework Poll. For more information on the difference between these two poll features, you can check out our What are Discussion Polls article.
Step 4. Choose whether or not the poll should be "hidden" or "active'. A "hidden" poll will be visible only to Instructors & TAs in a "Hidden" discussion polls tab. "Active" polls are visible by all community members (including students), and are also open for student responses. Active polls live in the "Active" discussion polls tab.
Once you are done collecting responses on your poll, you can set the poll visibility to "inactive" which keeps the poll visible to students in the "inactive" tab, but prohibits further student responses.
How can I utilize Homework polls in my course?
Example 1: Choose a perspective
Test students' ability to both demonstrate their knowledge and critical thinking skills by having them apply information from class to a theoretical situation: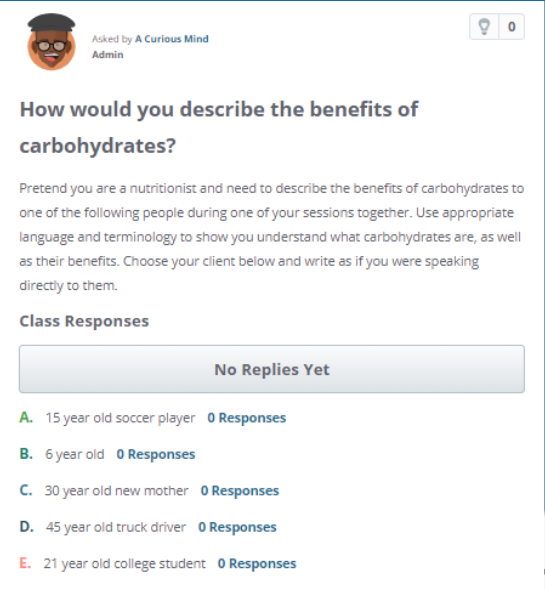 Example 2: Defend a side
Have students defend a side to an argument, then discuss in class (if possible!):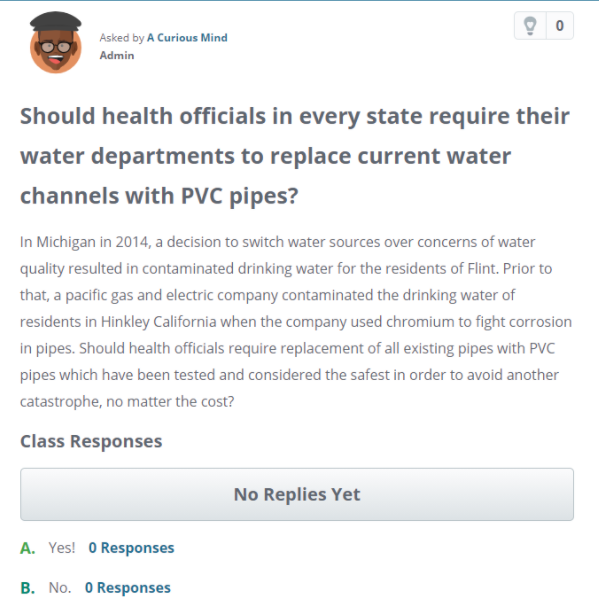 Example 3: Check for confusion
This option will allow you check to see where your students are struggling the most in your course, and why. You can check in with students to not only engage students during or outside of class, but collect data that will help drive your materials and instruction!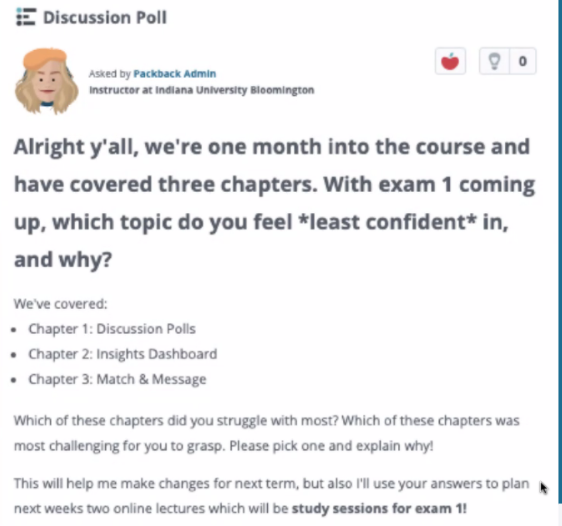 How can I utilize In-Class polls in my course?
Since "In-Class" polls are optional to grade (In-Class poll responses will not be counted in the Packback gradebook, unlike Homework poll responses), below are some recommendations for how instructors can use this poll feature.
Example 1: Check for understanding
Take a quick pulse to see how well students are absorbing information and who may need a little extra help or clarification.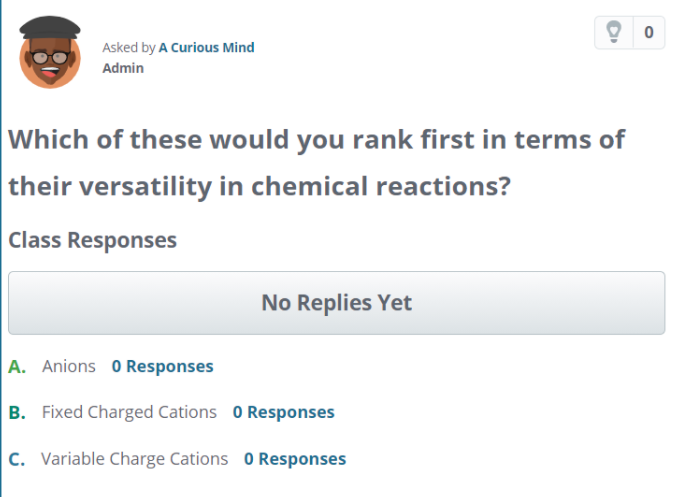 Example 2: Gauge student sentiment of a topic without requiring an open-ended response
Use a quick in-class poll as an opportunity to understand how students feel about the course material.
You can ask "what topic are you struggling with most?" or even "what topic would you like to focus on during the upcoming study session?" to guide future instruction.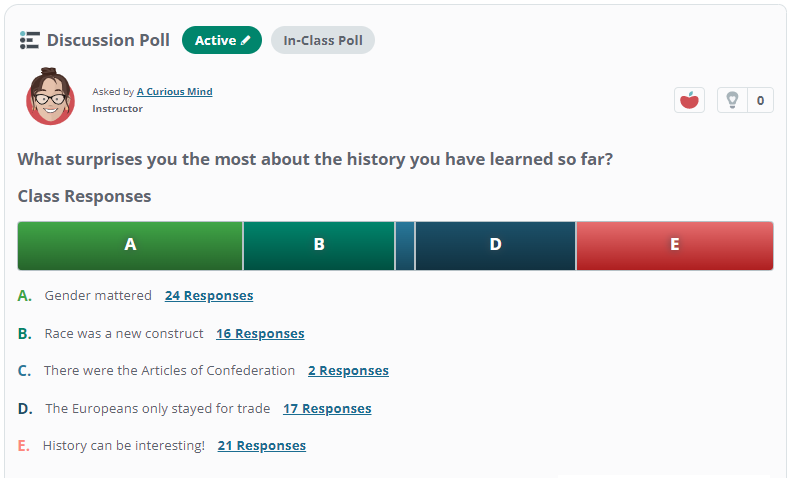 Where can students find each poll type?
Active Homework Polls will always appear in the main community feed for students to see.
In-Class Polls, along with all poll types, can be found by going to the

"Discussion Polls"

tab under the Packback instruct menu.
Step-by-Step instructions for how students can respond to a Discussion Poll
Students can access your community discussion polls, by going to the

"Discussion Polls"

tab under the Packback Instruct menu

Once a discussion poll has been created by an Instructor/and or TA, they can then respond by clicking on the "Add Response" button located at the bottom right hand corner of the poll post!

Students will then be prompted to select their poll choice and defend their response!
For advice on how to apply polls within your course, please refer to our Implementation Guides:
Still Have Questions?
If you have any other questions or concerns, feel free to reach out to our Support Team by filling out our Request Form or reaching out to help@packback.co.