Professor Tools contain everything you need to manage and maintain your community! This table can be found on the left hand side of your Community Feed. You'll just need to scroll down a little. You can access all of the following tools via the Professor Tools menu: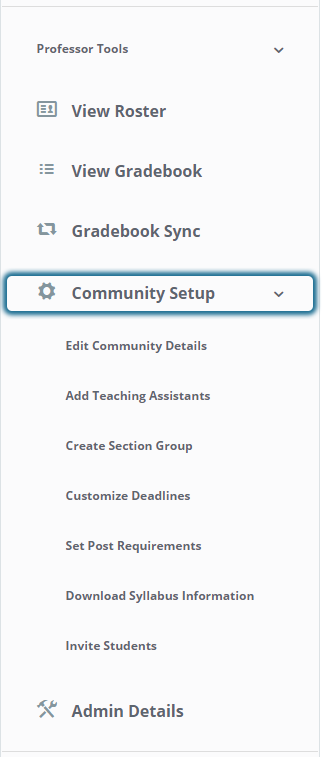 View Roster
We introduced a full Roster Management portal for professors, where you can upload your roster, invite individual students, drop students from the course, and see how many of your students have not yet registered!
View Gradebook
Here is where you can check on your Gradebook and Participation Report. Instructors have the option to generate a participation report in two different ways: Automated Reports and Custom Date Range Reports.
With the Automated Reports, instructors can input the weekly deadline, posting requirements, and assignment value and the grade will automatically populate after the deadline every week. Instructors will receive a weekly email reminder once it's completed.
With the Custom Date Range Reports, instructors can manually enter a date range and the report will show the participation for only that date range.
It's the designated location for you to monitor each student's weekly activity and how our Packback system scored them. If you'd like to have your students' activity calculated into a set number of points or a percentage, here is where you can set up that gradebook as well!
Gradebook Sync
Here is where you will be able to manage and turn on Gradebook sync for your community! If you are looking to turn on Gradebook sync in your community, check out our article here: How to turn on Gradebook Sync
Community Set Up
This is your hub for making sure your community details are set, your roster is uploaded and ready, and it's also where you can find a pre-written syllabus statement that instructs students how to register for your community and communicates your expectations of their Packback Participation. The tools you need for setting yourself up for success are at your disposal!
In this portion of your Professor Tools, you'll be able to edit the following community details:
Add Teaching Assistants
Create Section Groups
Customize Deadlines (We recommend at least one deadline per week, at the same date and time)
Set Post Requirments (We recommend requiring students to Ask 1 Question and Respond to 2 questions per week)
Download Your Syllabus Statement
Invite Students